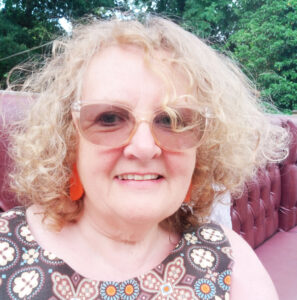 Thanks for visiting my website – I hope you enjoy my knit and crochet patterns, making my kits and learning through my video tutorials.

Ruth Maddock – Owner and Creator at Woolly Kits
Designing makes me happy.  I live with the chaos of a head full of designs. Inspiration pours out of everything and I'm constantly buzzing with ideas.
One day I want the clash of bold bright colours the next day I want to snuggle up in soft classics.
I tend to suffer from not knowing when to stop. 
Fortunately, I have family, friends, and animals to drag me out of the studio.
A successful design brings together all the elements of style, colour, texture, ease of making, cost, sustainability, accessibility, and comfort.  My knit and crochet patterns and kits are designed in this way.
I design things I would mostly want to wear or use myself, although many of my 'pattern only' designs were designed to a brief from a craft magazine or the yarn spinners.
I designed for all the major UK knitting magazines and yarn spinners from the eighties onwards and then with the advent of the internet I began to upload my designs for sale as digital downloads. I have been selling my knitting patterns and crochet patterns online since about 2012 via the Etsy and Ravelry platforms.
Recently – here at Woolly Kits  – I have begun to sell my knit and crochet patterns as craft kits backed up by video tutorials. I'm still in the early stages of this so please bear with me. If there are any patterns you would love to see as knitting kits – or crochet kits, just let me know. They make great gifts for crafters .
I'm loving the challenge of getting to grips with the internet and in another life, I might have done some kind of computer programming – which is of course a lot like writing knitting or crochet patterns.
I like using natural and sustainable yarns and am currently working on a sweater using homemade t-shirt yarn. When I say I'm working on it – I mean its in my head clamouring to get out!
I try to design things that are accessible to people of all shapes, sizes, and abilities. Currently I have an easy fingerless gloves knitting pattern which is a beginners knitting kit, and a beginners crochet kit for a crochet cushion cover. All my knitting kits and the crochet kits come with everything you need to complete the item.
Many of the kits are backed up with video tutorials so that there should be no problem understanding a pattern or technique – although I am still working on this! But I am just an email away!  (Well maybe not at the weekends!)
Alongside my knit and crochet patterns and kits I recently took a year out to complete a master's in creative craft at Hereford Art College. Having completed that and gaining a distinction I set up an entirely new business creating sewing patterns for kids that are unique, playful, and great for sensory kids.
 You can see that collection here. www.ruthmaddockmakes.com